WOMEN WHO CALL THE SHOTS
SPEAKER SERIES
This series features women working behind the scenes in television and film. Using an interview format, followed by a question and answer session with audience members, each session explores the career and works of the featured guest.
A Conversation with Allison Anders
February 12, 2009
1:00 - 2:15
Smith Recital Hall, Music Building
San Diego State University
Allison Anders is the director and writer of such critically-acclaimed films as Gas Food Lodging, Mi Vida Loca, Grace of My Heart, Sugar Town, and Things Behind the Sun. Her films have received the New York Film Critics Circle Award, the Deauville Film Festival Critics Award, and a Peabody Award. She has also directed episodes of Sex and the City, Cold Case, The L Word, Men in Trees, and What About Brian? In addition to her film and television work, Anders has been awarded a prestigious "genius grant" by the MacArthur Foundation, and serves as a distinguished Professor at UCSB in the Film and Media Studies Department.
A Conversation with Director/Writer Victoria Hochberg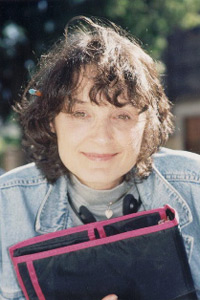 February 26, 2009
1:00 - 2:15
Smith Recital Hall, Music Building
San Diego State University
Victoria Hochberg has won two Emmys and two Directors Guild of America Awards. Her television directing credits include Sex and the City, Kitchen Confidential, Reaper, Ghost Whisperer, Ally McBeal, Touched by an Angel, and Melrose Place. She also directed the feature film Dawg starring Denis Leary and Elizabeth Hurley, and music videos for The Eagles and Boz Scaggs. Hochberg also serves on the National Board of the Directors Guild of America.